Written by Harald
Tuesday, 13 January 2009 00:00
---
October 2008
---
The Lewis Glucksman Gallery in Cork, Ireland showcased an exhibition called bookish from June - October 2008. Books published by A Shoal of Mackerel, as well as some books published by friends of A Shoal of Mackerel could be seen in the exhibition.
---
Here is the text from the exhibition [full text on the Glucksman website]
---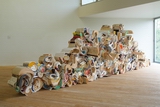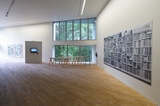 BOOKISH: When Books Become Art considered the relationships between art and books. It emphasises the ways in which books have become integral to works of sculpture, photography, film, and other art forms.
The title BOOKISH has a double sense; pointing to the general description of studious disposition, but also to the variable and approximate nature of the artistic relationships that appear throughout the exhibition. The selected artists in BOOKISH do not share a common approach. From capturing the pages of a book in a photograph, to books being used as a sculptural component – the artists demonstrate a diversity of practices, drawing upon the formal, textual, and social properties of books themselves.
Historically, books have been the carriers of text and the prime repositories of human knowledge, but they are also objects that are commonly shared, borrowed, and circulated; connecting people and places together. For many of the featured artists, books are a way of referring to a broader set of concerns; from the political provocations of video works by Rainer Ganahl - showing the artist kicking the Complete Works of Lenin around Red Square, Moscow - through to the formal appropriation of books in works by Damien Roach and Richard Wentworth - practices that have more in common with the sculptural traditions of the 'ready made'.
Books are public in their intent to communicate, but also private in the way that they stack up on household shelves and gather our affections. For many of the artists in the exhibition, books are a way of layering pers onal histories with grander narratives of other times and places; whether through manipulation of the book object - such as Jonathan Monk 's series of stencilled 'found books' - or represented through the camera lens – such as Hans-Peter Feldmann 's cool-mannered photograph of his own eclectic bookshelves.
While books can also represent a society's measure of itself, we live in a time when books are increasingly digitized and texts are electronically distributed. What effect does this pose on our sense of ourselves? BOOKISH is an exhibition that encourages new approaches to the way we see books in our everyday, while also questioning their essential qualities. How do books perform differently when they are at the core of an artist's work? And what can we understand about art in this relationship?
---
http://www.glucksman.org/exhibitions_Bookish.htm