News & Events
Kunstpublikationer 2012 at Overgade
---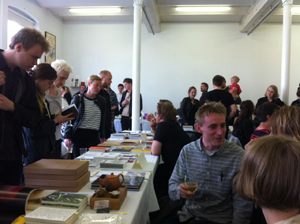 At Overgade Institute for Contemporary Arts in Copenhagen with a table of books including not only our own publications but also works from Stina Pettersson, Maja Fjällbäck, Vanga Larberg, Sara Hallström, Helga Härenstam, Olof Essvik, BILAGA and JARKO. 
Our participation was generously supported by the KKN

---

At Textival in Gothenburg.

For this event we where among older publications specially proud to promote four newly published books:




Everyday Politics by Jakob Anckarsvärd 

A Demostration of the Sign of the Horns a collaboration between Helga Härenstam & Olle Essvik

Sommaren i Finland by Olle Essvik

Galgar - en familjehistoria by Mari Lagerquist

 

  

Our special guests, Olle & Helga was enjoying the bookfair! 

Glasgow International Artist Bookfair 2012

 

---

As a good tradition we participated in the biannual GIAB.

 

Books at Den Frie Udstillingsbygning

---

We are now also selling books at Den Frie Udstillingsbygning in Copenhagen. Not only is it a great gallery that sells books, they are also building up a small library of artists book - worth an extra visit. 

Glasgow International Artists Bookfair 2010

---

At the same time as Glasgow International spread out over the city, GIAB took over the great conference room of The Royal Concert Hall. We showed new books, books from previous years and a whole table just for Gothenburg based artists.

 

Read more...

Verbale Pupiller Århus Kunstbygning

---

Verbale Pupiller 22-25 October 

A poetryfestival, book-fair and exhibition at Århus Kunstbygning Denmark.

Early morning on the 21st we took the ferry to Denmark, stopped in Fredrikshamn, bought

a red sausage and entered the slow local train to Århus; A Shoal of Mackerel was on the way

to the newly renovated Kunstbygning in Århus together with 29 other publishing houses.

Read more...

Kunstpublikationer in Copenhagen 2009

---

24-26th April 2009: Overgade Institut for Samtidskunst

---

For this years event CMYK in Copenhagen kindly included some of our books into their stall. 

 

Read more...

Skifte, a web-based exhibition

---

24th of April - 25th of May: Skifte  

---

Skifte is a Swedish word for change, changeover, vicissitudes, distribution, partition and a piece of land. However today the word Skifte is mostly used in relation to work and work in its various forms is what the exhibition focus on. The Swedish fraction of A Shoal of Mackerel has made a collection of links where we have written or modified articles in public networks such as Wikipedia, youtube and Flicker and assembled them under our logo. 

Written by Harald

Tuesday, 13 January 2009 00:00

---

October 2008

---

The Lewis Glucksman Gallery in Cork, Ireland showcased an exhibition called bookish from June - October 2008. Books published by A Shoal of Mackerel, as well as some books published by friends of A Shoal of Mackerel could be seen in the exhibition.

Read more...

Kunstpublikationer in Copenhagen

---

25-27th April 2008: Overgade Institut for Samtidskunst

---

The contemporary art gallery Overgade in Copenhagen invited to a three-day book fair for artists books. We enjoyed the weekend together with a crowd of small publishing houses and individual artists from Denmark and beyond. Apart from showing and selling our own books, Sophy Neass sold her This is What She is Like.
 


 

 

Glasgow International Artists Bookfair 2008

---

25th & 26th April 2008 - A Shoal of Mackerel @ Glasgow International Artists Bookfair

---

2008 was the first year ever, in which Glasgow was host to an International Artists Book Fair.

The event showcased a huge range of work produced by local, UK-based and international artists. Books as artworks, books about books, books about bookbinding, old-style letterpress books, audio books, funny & weird books and even books with nothing in them were seen and bought.


Read more...

 

---

8th of February 2008: CCA spring bookfair

---

We have participated at the CCA bookfair again. Our custom-built stall again got some attraction. Apart from showing our books, we had a small exhibition of 3 unique artists books: colourstudy by Triona Ryan, a guide to 21st century revolution by Sandy Smith & Mount Dillon, Erin by Harald Turek.

 

 

---

22-25 February 2007: SUPERMARKET 2007

---

Our publications so far have been represented at the SUPERMARKET art fair 2007, which took place
in February 22-25 at Konstnärshuset (The Artists' House), an old Art Deco palace in the centre of Stockholm..

 

Read more...